Denna vecka gästbloggar vår internationella talare, Peeter Ross, med reflektioner efter förra veckans workshop om möjligheterna att utveckla hälso- och sjukvården genom användning av digital vårddata.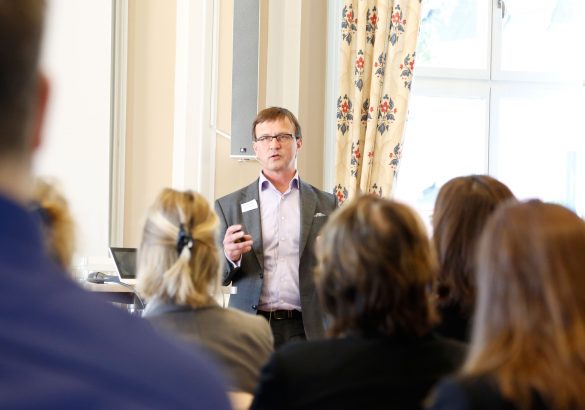 There is no doubt that information technology is an integral part of today´s healthcare. The question is how fluently new technologies are implemented and what the most proper ways are to get maximal benefits of digital data? 
Since Hippocrates, medicine has relied on data that physicians collect about their patients. Until the end of the last century decision making has been based on roughly the same amount of data. Development of epidemiology, chemistry, microbiology, medical imaging and lately genetics has increased the amount of data describing the health status of human beings, to such an extent that it is no longer possible for one doctor to comprise the information. Fortunately, information technology can help physicians and most recently also patients to capture the most important findings in aggregated and illustrative modes.
For several centuries healthcare data has been collected by writing narrative texts. The change to highly structured and regulated digital formats not only changes the everyday work of healthcare professionals but also requires a proper change management plan.
Estonia has decided to implement a nation-wide health information system. This e-health platform is up and running since 2009. It is unique as it encompasses the whole country, registres all residents´ healthcare history from birth to death, and is based on the comprehensive secure internet based data exchange layer which is also used to all other e-services in Estonia. The system includes among other services e-prescription, electronic health records, digital images, possibility to share medical documents between healthcare professionals and the patient portal "My eHealth". Patients have secure access to the patient portal using either ID-card or mobile-ID. In the portal they can view stored documents, make their declarations of intent (e.g. donation of organs), fill in health declaration forms, close documents from physicians and get an overview who has viewed their data and when.
The Estonian experience shows that necessary actions for implementation of such a system should include;
agreement about common use of terminologies and codes for healthcare professionals
adoption of necessary legal changes to make digital documents equally valid with paper documents
agreement about security and privacy rules
setting up clear governance to ensure coordinated implementation of new e-health applications and services
deployment of modern, secure and scalable information technology applications
coordinated activities and standardized processes from all healthcare parties
involving patients as equal partners in making health related decisions based on digital information
Despite initial problems with implementing the e-health platform, such as resistance from physicians to share information with colleagues and patients, the system has gained large popularity among the healthcare professionals and patients. There are close to 25 million documents collected in the system,  98% of all issued prescriptions are electronic, about 100 000 queries per month are made by healthcare professionals through the system and more than 15% of Estonian residents have used the patient portal. Moreover, all healthcare providers have to share medical documents through the e-health system, otherwise they would not get reimbursed by health insurances and might loose their license.
So far, digitalization of healthcare in Estonia has been successful.
Next challenge is integration of health data collected by individuals using either remote monitoring systems or mobile devices, use of digital decision support to develop personalized medicine based on pheno- and genotype data and implementation of new e-services, especially to integrate social care and healthcare services.
The development of large scale e-health implementations in Sweden depends on the health policy and strategy decisions in the near future. Hopefully unjustified assumptions of potential misuse of digital data would not outweigh the benefits that properly planned e-health system could bring.
Sweden and Estonia are forerunners in healthcare digitalization in EU and in the world. It might be that several organizational actions and technological solutions are equally implementable in both countries. This would pave the way to common future research and development.
Peeter Ross
Peeter Ross, MD, PhD is a senior research scientist in Tallinn University of Technology (TUT). He also serves as an e-health expert at Estonian E-Health Foundation and holds radiologists position in East Tallinn Central Hospital (ETCH). Peeter is responsible for research and teaching of healthcare innovation and use of digital applications in health domain. He has participated actively in designing and implementation of Estonian nation-wide Electronic Health Record system. He has also been involved in several EU funded eHealth projects. Peeter is a contributing member of the Teleradiology, Ethical Compliance and Audit and Standards subcommittees of European Society of Radiology.