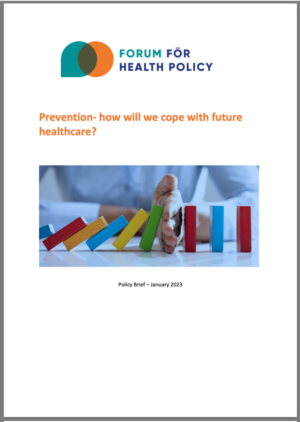 Prevention is about health-promoting measures, to actively prevent disease from occurring in a healthy individual or avoid a disease state from worsening. Investments in prevention can bring great benefits for the individual, the healthcare system and society as a whole.
There is evidence on the importance of health-promoting lifestyle, for example physical activity and diet. Research shows that 45 percent of all dementias can be prevented and 80 percent of all cardiovascular disease. It is the same lifestyle factors that are behind common diseases such as type 2 diabetes, Parkinson's, Alzheimer's, and 30 percent of cancers. Investing in prevention is something that has been in demand for a long time, not least in view of the great challenges of healthcare. The question is why there is not more focus and investment. Why are new working methods not introduced? Why is there not sufficient cooperation between health care actors as well as between health care providers and other organizations in society?
In this report, which is based on input from many different actors in the system, several recommendations are presented to strengthen prevention. These include patient participation, user-friendly IT systems, use of digital tools and cooperation between different actors. The recommendations relate to the need to strengthen the patient's knowledge and the opportunity to share data, the need for strengthened primary care, more efforts for the elderly in the form of, for example, vaccination programs and health checks, as well as better conditions for working with functioning and evidence-based methods such as FAR, Physical Activity on Prescription.
On October 25th, 2022, Forum for Health Policy organized a workshop together with the insurance company If, a member organization, on the topic of prevention. The Swedish Minister for Health Care, Acko Ankarberg Johansson (Christian Democrats, KD) opened the conference. Different groups and key people were represented: patient organizations, union representatives, pharmaceutical companies, pharmacies, insurance companies, experts in the healthcare system, researchers, doctors, occupational therapists, physiotherapists, nurses, entrepreneurs and many more.
The starting point for the workshop was to shed light on the issue of prevention and preventive measures. What policy decisions are needed to strengthen prevention work and thereby prevent unnecessary care, increase the well-being of patients and relieve the health care system?
This is an English version of a Swedish report, mainly based on the workshop on 25 October. The report does not claim to provide a comprehensive picture of the extensive field of primary and secondary prevention. However, several important recommendations are given that can strengthen preventive care in Sweden but may also be of international interest.
The report is addressed to everyone with an interest in strengthening and developing prevention and preventive care including decision-makers and politicians at national, regional, and municipal level.
Peter Graf
Chairman, Forum for Health Policy
January 2023